Tomorrow, I'm breaking quarantine and heading to Colorado.
What on earth could be THAT important, you might be asking… 
Well, one of the startups we invested $35,000 in will be appearing on Shark Tank's Season Finale, TOMORROW (May 13). 
I'm heading there for a watch party and to experience the insanity that will ensue after the episode airs! 
I'll be hanging out with Anthony Franco, the Founder & CEO of mcSquares––and creator of a product which I believe will be a household item in schools and businesses across the globe. 
mcSquares has developed reusable whiteboard stickies made with BubbleBond®, a space-grade micro-suction foam.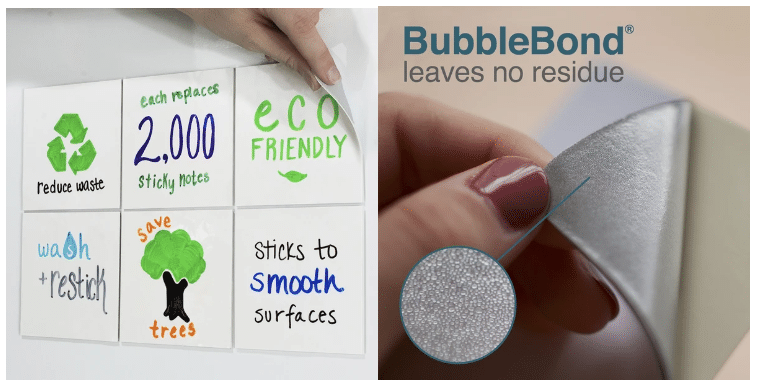 It's one of the first companies our premium angel group, The Boardroom invested in.
Ever wished you could invest in a Shark Tank company?
Anthony will be opening a new investment round and giving Angel Investing Insider members a chance to invest shortly after his Shark Tank appearance.
So make sure you watch the Shark Tank Season Finale tomorrow night (May 13).
We can't wait to see what the Shark Tank Bump looks like for mcSquares!
Want to see what the Shark Tank experience has done for other startups?
I'm sure you already know about Shark Tank.
You know, the smash-hit TV series where entrepreneurs get their shot to impress a panel of celebrity investors? 
This formula isn't just good entertainment, it has truly become a phenomenon that has brought angel investing into popular culture. 
As an angel investor myself, I'm thrilled by this. The more people that realize they can make money like the Sharks the better. And the steady growth of entrepreneurship that Shark Tank creates means more opportunities for us angels.
But here's where it gets really good…
If you can see through the surface-level of the show, you may find a great opportunity. Not only can you pick up on a few tricks from the Sharks and study the startups for yourself, but you can actually invest in them. 
That's right. If a company is on Shark Tank that doesn't mean you missed the boat — it may just mean a new one is about to set sail.
How the Sharks Invest
Angel investing is a difficult game. It doesn't matter who's signing on the dotted line, be it you or Mark Cuban. Successes are few and far between.
You know by now that you can increase your chances for success by getting access to consistent deal flow with an angel investing group.
But, you may not have considered that you can piggy-back off of the experience and expertise of Shark Tank's investors.
The Sharks have an exceptional vetting system. This is how so many products from the show have garnered so much success.
After being interrogated by a board of incredibly successful angels, a startup may land a deal. But, this is just the first step. Off-air, the founders and their companies undergo a months-long vetting process. The Sharks continue to scrutinize and advise, making sure the investment is airtight. Many companies fail during this process.
According to Daymond John of Shark Tank, only about 20% of deals close after the due diligence process.
If a company makes it out of the Shark Tank with an investment, it has proven its worth. 
This is exactly how Angel Investing Insider operates. We serve you up the hottest startups that we have on our radar.
The Shark Tank Boost
So, besides being skillfully selected, why do so many Shark Tank startups succeed?
The biggest factor is exposure. 
Shark Tank acts as a marketing platform that gets millions of eyeballs on the product. This is a nice little hedge against risk for all investments made on the show.
Think about how many other startups could succeed if they got a free global marketing boost along with their funding.
If the Sharks invest, and the product is tantalizing, you can be certain that the startup's sales will go through the roof.
Let's see some examples of this Shark Bump.
The Squatty Potty is a simple stool for making your bowel movements a bit more ergonomic. It aired on Shark Tank, and the very next day made $1 million in sales. 
Just three years later, the company had made $33 million in sales and expanded its product line.
Copa Di Vino appeared on Shark Tank but didn't manage to land a deal with any of the investors. Before the show, it had around $500,000 in sales — after the show, that number jumped up to over $12 million. 
Shark Tank can have a powerful effect on a startup's success.
Biggest Startup Successes from Shark Tank
There's much more to discover here. Let's take a look at some of the biggest success stories from Shark Tank and how the show helped them.
1.
Groovebook
Let's start off with a company that went from almost no sales to a multimillion-dollar acquisition thanks to Shark Tank.
Groovebook takes your photos from your phone or social media and prints them into a memorable photo album. The photos are sent right to your door, for a low price. 
This caught the eye of Kevin O'Leary who invested in and mentored the small company.
After a few short years, Groovebook was purchased by digital photo giant Shutterfly for a cool $14.5 million.
Founders Brian and Julie Whiteman said, "When we pitched on Shark Tank, we barely had any sales", and say that their business grew 15 times since appearing on the show.
2.
Tipsy Elves
You may have heard of this brand — it's the king of ugly Christmas sweaters.
What you may not know is that this startup owes its success to the exposure it got from Shark Tank and the sage advice of one Mr. Herjavec.
Robert Herjavec saw potential in the brand and invested in season 10. 
However, he knew seasonal sales wouldn't be enough. He suggested expanding the brand into other holidays and even the college football season. 
This worked out wonderfully for Tipsy Elves. The brand now sells apparel and accessories for all major holidays, many sports teams, and even skiing gear, meaning a constant revenue stream and a larger market.
This guidance, coupled with massive exposure from the show, was a recipe for success. Tipsy Elves went from selling around $600,000 a year to $10 million a year.
3.
Scrub Daddy
Now I'm bringing out the big guns.
One Shark managed to turn a simple cleaning product into a 170+ million dollar company. 
The idea was rather simple, a sponge with three holes — two eyes and a mouth. The eyes are great for gripping, the mouth for cleaning utensils. When cold water hits the sponge, it becomes tough and hard, and with warm water, soft and pliable. 
A nifty idea, but how did it become the biggest success of any Shark Tank startup to date?
Three things — good funding, great guidance, incredible exposure.
Lori Greiner gave Scrub Daddy the money it needed to up production — and much more. 
You see, Lori had a career working with J.C. Penny, Bed, Bath and Beyond, Home Shopping Network, and QVC.
No one in the room — or maybe the world — knew how to sell that product as she did. With her mentoring and connections, the Scrub Daddy was an instant hit.
Oh, and millions of viewers sitting at home thinking, "Wow, I want that sponge!" didn't hurt either.
Keep an Eye Out for More Shark Tank Successes
At a bare minimum, shows like Shark Tank can be an entertaining way to sharpen your investing skills and see what's happening in the startup world. 
But, going deeper, you can find opportunities that catapult you into success.
Many companies remain open for funding following their appearance on the show, meaning you can invest in companies good enough for the Sharks. 
Just like angel investing networks, this can be a source of deal-flow for angel investors like you. They do the dirty work, saving you hours of startup sleuthing and due diligence. 
If you see a startup you like from the show, find out if there will be more rounds of funding. You might just hop on a deal that could be the next Scrub Daddy.