There's a NEW American economy unfolding right before our eyes.
I have, what I believe, is the perfect strategy to harness the opportunity and rake in some bigtime ROI (more on that in a few).
You see, over the next 10 years… 
Half of the companies making up the S&P 500 will be replaced.
They're getting dethroned by nimble, rapidly growing, and hyper-relevant startups.
It's been happening… 
There's been a steady decline in S&P 500 company tenure since 1960.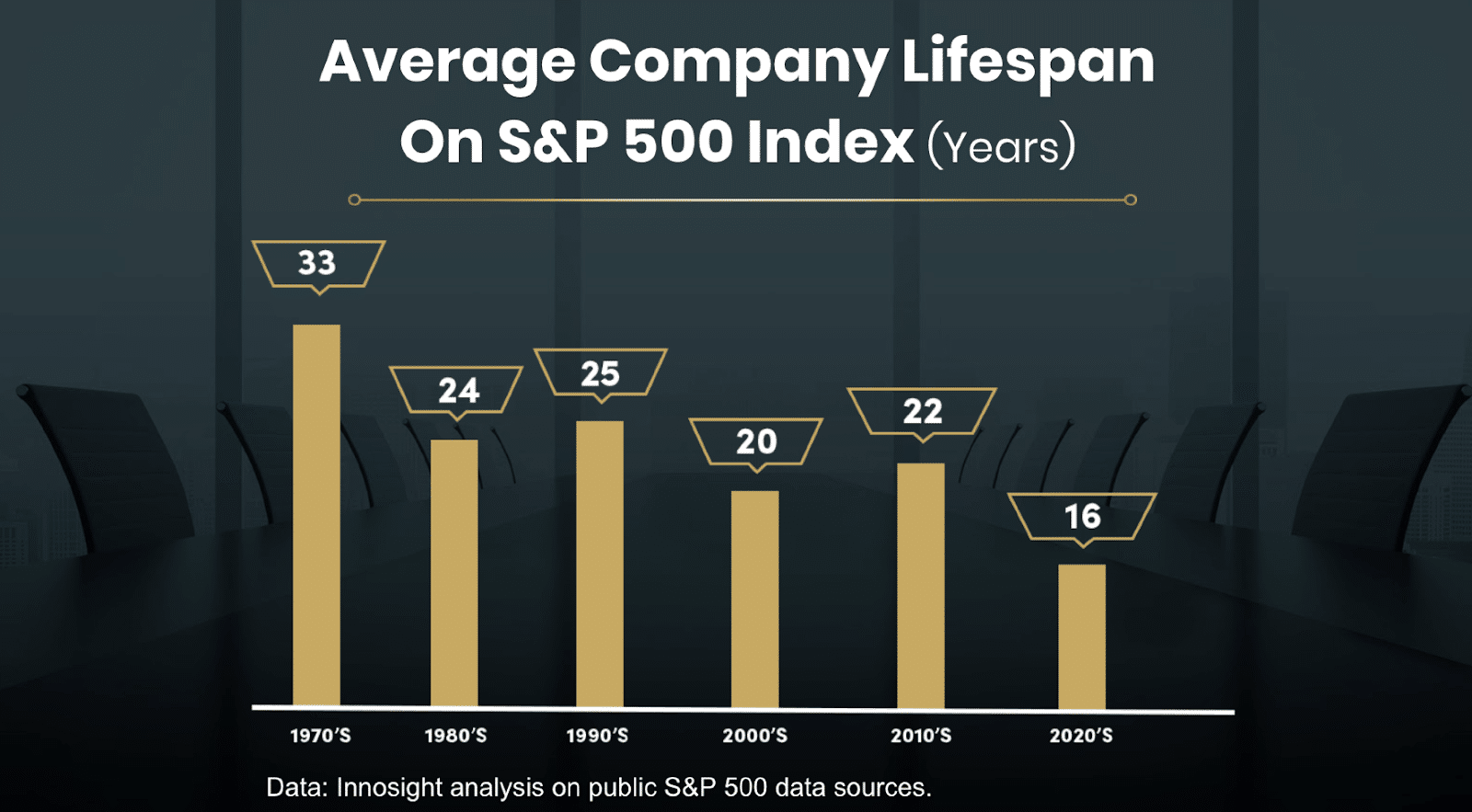 This shift (or New American Economy as I call it) is being driven by massive changes (catalysts) in the world around us…
Transformative Technologies
5G – Total connectivity

Automation – Speed up, costs down, less need for labor

Machine Learning – Hyper-effective software solutions
Social Disruption
Shift to Remote Work

eCommerce & Demise of Retail Economy

Freelance/Gig Economy driven by Millennial workforce

All increased by COVID-19…
And by betting on early-stage startups (read: Angel Investing) tackling the problems with innovation and solutions… 
You can set yourself up for massive returns if one of these companies is later acquired or IPOs.
I explain exactly what I'm seeing that's changing the world of Angel Investing… 
And share how you can capitalize on this very opportunity alongside my investing partners and me in this limited-time New American Economy presentation.
I've also packed the entire strategy I share in the presentation into a condensed and highly consumable Angel Investing Brief…
I've been hosting training webinars for Angel Investors of all experience levels, on the New American Economy, and the opportunities I'm seeing open.
In this webinar, I discussed the role of angel investing in your portfolio, the massive upcoming changes to the economy, and how you get profit off of the startups that will shape it. 
To see when the next session starts and reserve your spot…click here.
You already know how angel investments give the highest returns of any investment type, the truth is, it's just another investing strategy. 
Angel investments belong on your portfolio along with other low-risk, low-reward investments.
Let's see some of the different strategies and how much they return.
| | | | | |
| --- | --- | --- | --- | --- |
| Savings Account | Blue Chips | Real Estate | Stocks | Angel Investing |
| <1% | 8% | 8.6% | 10% | 27% |
Each of these strategies has pros and cons. The trick is to have a balance of investments that create a balanced portfolio.
But, there is one huge reason to have angel investing — AKA investing in early-stage companies — on your radar today.
With all that has been happening in the world, the biggest investment potential is in the startups that are setting up to take over the New American Economy.
So, What Is The New American Economy?
(This is the abbreviated version…watch my upcoming presentation to hear me fully unpack the new economy.)
Recessions are a difficult reality of our economy. I wish there could be smooth sailing year after year, but we inevitably go through boom and bust.
Right now, we are amid a global pandemic. The economy will be in a recession because of this — there's no hiding from it.
But here's the good news. 
After the storm settles and things swing back into action, the boom will come and we will witness the rise of many incredible innovations and businesses.
The United States has already been through 47 recessions. And following each of them, a period of exceptional growth.
Airbnb, Uber, Pinterest, Instagram, Groupon, Whatsapp, Venmo, and dozens more massively successful startups exploded right after the 2007-2008 Great Recession. 
2009 to 2019 has been an incredible run that brought unprecedented changes to our global economy. In this period we saw the rise of smartphones, social media, the sharing economy, artificial intelligence, and more.
The question is — following the COVID-19 Global Pandemic, what innovations and businesses will be created? 
This will be the New American Economy.
Catalyst Events Define The Economy
War, new legislation, and social change always catalyze the economy. To understand the effect that COVID-19 will have on our economic future, let's look at the past.
1944 – G.I. Bill
Post-WWII, the U.S. government passed the G.I. bill.
This essentially created the "white collar" workforce. During this period we saw innovations like the microwave and television become essential parts of American life.
1989 – Fall of Communism
This is when the personal computing revolution began. 
In 1984, there was about an 8% adoption of the personal computer in American homes. By 1997, there was a 36% adoption rate. This is when Microsoft saw success and we experienced the world wide web for the first time in the form of Web 1.0. 
By 2001, 50% of households across the country had a personal computer.
2008 – Great Recession
After the Great Recession, we saw the creation and dominance of the "App Economy". 
This was a massive land-grab.  The demand for apps, smartphones, and social media was born out of nothing and became the new gold rush. 
Incredible amounts of wealth were created by entrepreneurs and investors who seized this opportunity. 
Today's Great Economic Catalyst
While much of what will happen in the next economic upswing is impossible to predict, there are some technologies that you can be sure will be massive.
For example, 5G will bring full connectivity to the entire planet.
Automation will speed up nearly every aspect of our economy while lowering costs. Jobs are being lost and created at an unprecedented rate.
Machine learning is only getting better, it isn't going away. The future economy will run on hyper-fast analyses and decisions made by artificial intelligence.
Social Disruption
Beyond purely economic changes, we will see massive social changes. Whatever was happening pre-COVID-19 has been accelerated, and entirely unpredicted changes come with it.
The shift to remote work is huge. Employees that left the office to work at home temporarily are now being asked to work from home long-term. Zoom and other video conferencing, scheduling, and management apps are taking over the new workforce.
This has created the Freelance and Gig Economy that isn't going away anytime soon. 
Businesses are realizing that they can save money by outsourcing freelancers or just keeping their "in-house" workers at home. 
Much of the workforce prefers this — a win-win for everyone.
Finally, the pandemic has put the final nail in the coffin in the legacy retail vs. eCommerce fight. 
The New Era
There is no going back from what has happened. While this is scary to some, it is an exciting opportunity for angel investors.
The new economy isn't coming — it's here.
According to the Huron Consulting Group, about half of all S&P 500 companies will be replaced over the next ten years. 
Who is going to replace them?
They will be replaced by new companies that crush it in the gig economy, in eCommerce, in artificial intelligence, and in innovations, we have yet to see.
What Companies We Are Looking For Moving Forward
Following the Great Recession, angels and venture capitalists were sniffing out the best opportunities in the app and sharing economy.
My partners and I are doing the same today. We have already found and invested in startups that we believe will see massive growth moving into the new economy.
Rentberry
One example of this is Rentberry. This is an all-in-one rental app for renters and landlords disrupting the legacy rental industry.
Instead of checking Craigslist, Zillow, and a dozen other platforms, you can complete a rental process from start to finish with Rentberry.
Rental availability, rules, and prices are readily available and transparent on the app. No more unwanted phone conversations and walkthroughs. 
You can see the price, how many people are interested, what the current bid for the rental is, and more.
Going further, you can pay rent, request maintenance, communicate with owners or renters, all through one platform.
When you move to a new apartment or home, your profile moves with you. No matter where you are in the world your ratings and history can help you to quickly and easily find a new rental.
This is like Airbnb for long-term stays.
Rentberry has over 6 million properties listed, over 900,000 users, and 213% year-over-year growth.
Here's the brilliant part — during the downturn and recovery, ownership becomes less practical. People will be renting. When they do, they will be able to do the whole thing, start to finish, from the comfort of their homes.
Albi
Albi is an AI virtual assistant that sits in on your Zoom, Google Hangouts, or Microsoft Teams meeting and "takes notes".
During the meeting, Albi is writing a transcript, taking down action items and emailing them to team members, providing tips on how to improve productivity, and more.
With Albi, you don't need to take notes — no one does. You can just be present at the meeting.
Many Fortune 500 companies are already beta-testing this product. Because it integrates with virtually all conferencing software, it is incredibly flexible and cost-effective.
Needless to say, in the remote working gig economy, this type of meeting management tool has insane potential.
To hear about more incredible startups we invested in, grab a spot for my next webinar session.
How Can You Cash in On the New Economy?
Less than a decade ago, early-stage companies had a tough time getting funding as only an elite few were permitted by law to invest in them. Back then, seed investing was a game for the ultra-rich and well-connected.
It used to be, if you wanted to invest in startups, you needed to be an accredited investor. This meant, having an annual income of more than $200,000, or $300,000 for joint income. Or, it meant having a net worth of over $1 million.
But, this all changed with the JOBS Act.
With this new legislation, regular Americans now have the opportunity to make angel investments.
This is where The Boardroom comes in…
The Boardroom
Some of you may know Jeff Bishop and Jason Bond. These guys are titans. They are crushing it in the financial education space with RagingBull.
But, did you know that they are both incredibly successful angel investors? 
This is why I partnered with them to create The Boardroom. 
We are all about education, and our goal is to make angel investing available to everyone. We find and curate great companies and bring them to our members. 
The kinds of companies we offer our members are ones we have already invested in ourselves. 
We aren't looking for 1,000x returns — if we get one, that's great — we are looking for solid, consistent 10x to 20x returns.
If you join The Boardroom you can see our analysis. 
Check out the companies we invested in, how much we invested, info on the company, and more. Everything is available to you, full transparency. 
This allows you to do your own due diligence and decide if the deal is right for you. If you like a deal, you can co-invest with us and start making angel investing returns.
You can even be a part of meetings with founders, ask them questions, and advise them.
Membership in The Boardroom includes: 
12 Months of Deal Flow (25+ Private Startup Deals)

Angel Alerts

The Boardroom's Analysis and Research

Private Partners Perks

Step-By-Step Investor Education

Access to The Boardroom's Private Community

BONUS: Full Access to Angel Investing Insider + New Wave Wealth
Now that you've seen what we're up to in our Angel Investing community and the power of the new economy of startups, I hope you'll join us!