Dear Angel Investor,
Jeff Bishop here.
I'm about to share with you insights on an industry that's estimated to be valued at $24 billion annually by 2025.
Imagine this… 
You overslept and you should've been out the door 15 minutes ago. You're in an absolute panic because the next city bus won't arrive for another 15 minutes and you don't have time to sit in traffic in the back of an Uber.
What are you supposed to do!?
Micromobility companies are racing to solve this problem. 
Micromobility refers to a broad category of single-occupancy motorized (typically electric) vehicles that are available as a shared service. The most common micromobility vehicles are electric bikes, electric scooters, and in some cases, electric longboards.
With convenient grab-and-go stations, micromobility companies provide a cheap and efficient way to avoid traffic and make commuting a breeze. 
While micromobility is just beginning to take off, the companies that are meeting the demand for small vehicles are enjoying huge success.
Here's why I think this industry is ripe with angel opportunity.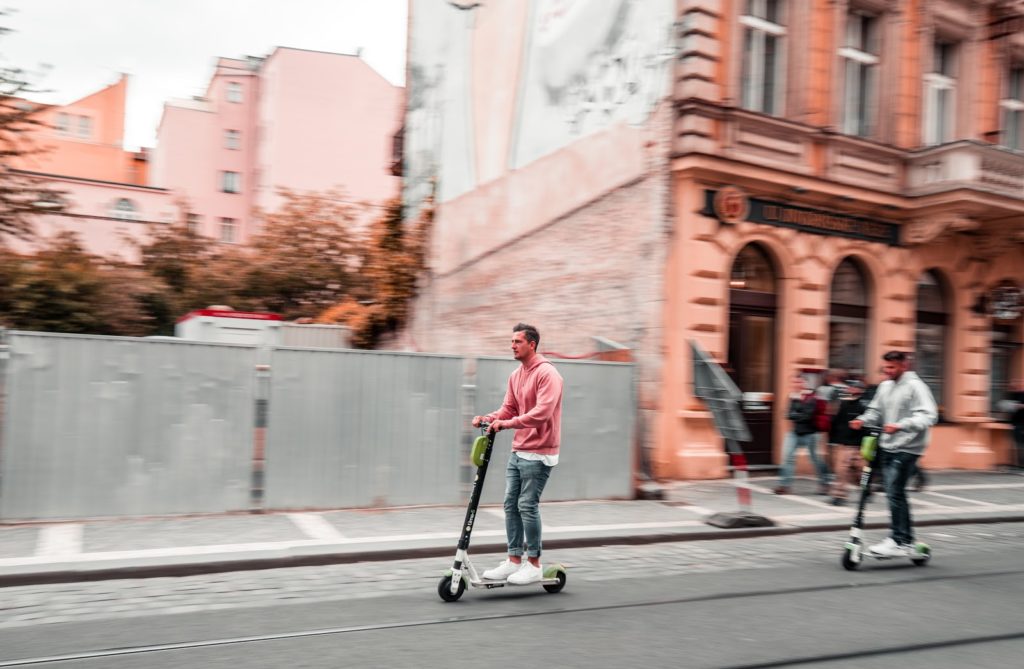 The broad category of single-occupancy motorized (typically electric) vehicles available as a shared service, known as micromobility, has created an industry packed with opportunities for angel investors.
This newfound form of transportation will continue to grow in popularity as new innovations and updated city codes make the riding experience more accessible. Not only that, it will also make space for new technological possibilities in its industry.
Micromobility is emerging and the need to create the technology to support this industry is growing with it.
As investors ourselves, we are beyond excited about this new horizon. The micromobility industry is flourishing with potential investment opportunities and existing companies have only touched the surface. 
If you have been looking to invest in an exciting emerging industry, exploring the micromobility industry may be your next step. 
A New Industry Takes Flight – The Rise of Bird
No discussion of micromobility is complete without a nod to the original trailblazer in the space, Bird Scooters. This Santa Monica-based company made waves in 2017 when they entered the market. Overnight, thousands of electric scooters suddenly appeared throughout the city. It took commuters and residents no time to trade their typical forms of transportation for the scooters, which were faster, cheaper, and a lot more fun.
Their adoption rates have been staggering. Bird ended its first year on the market with 10 million rides and a valuation of $2 billion dollars. With $565 million in funding raised from their Series A, Series B, and venture rounds, Bird was the fastest company in history to reach a $1 billion valuation, earning them that all-elusive "unicorn" status. 
In a single year, Bird invented an alternate form of mass transportation—a seemingly unthinkable feat—and with it, micromobility was born. 
Here are 3 reasons we believe the micromobility industry is just getting started (and what to look for in potential startup deals in the space):
1. Micromobility: A Hundred-Billion Dollar Industry In The Making
What if we told you about an opportunity that has the potential of bringing in 24.3 billion dollars in revenue by 2025? We're pretty sure you would be itching for a piece of the pie. That's how much money Navigant Research projects will be made from micromobility vehicles over the next 5 years.
According to research from the McKinsey Global Institute, stakeholders have invested $5.7 billion dollars in micromobility startups since 2015. Micromobility is projected to be a $200-$300 billion dollar industry by 2030. 
Still not sure if micromobility could be your unicorn investment?
The top micromobility startups are exceeding expectations and blowing past financial milestones. The California-based startup, Bird, was the fastest company in the world to reach a valuation of $1B which was achieved just 9 months after their introduction to the market in 2017. Their greatest competitor, Lime, skyrocketed in 2019 with a $2.4B valuation. They, too, have only been operating since 2017. 
Closely following Bird and Lime is JUMP who raised $1.3 million from angel round investing and $10 million from their most recent Series A round in 2018. JUMP's estimated annual revenue is $5 million. 
What about the up-and-coming micromobility companies? Do startups have a chance against the top competitors?
Absolutely.
Startup company, Spin, was launched at the end of 2017 and ended its first fiscal year with a $90 million valuation. In 2018, Spin was purchased by Ford Motor Company for $100 million. As of November of 2018, Ford committed another $200 million in funding on top of the $8 million raised from Series A funding in 2017. 
But, the money isn't just in rentable electric transportation. Since their first seed round in October of 2019, Unagi Scooters has raised $3.2 million in funds. Their estimated annual revenue for their first year of operation is $1.2 million. Likewise, startup Scooterson raised $1.8 million from 3 rounds of funding. 
Startups and existing companies alike have recognized the emerging industry of micromobility and are anxiously seeking out investors. As you can see from this data alone, micromobility is a financially rewarding industry that is growing exponentially. With projections to be a nearly $25 billion dollar industry by 2025, we think it is a great time to get in on the action before the market becomes saturated. 
2. The Demand For Micromobility Vehicles In Major Cities Is Skyrocketing
Aside from Bird, there are many up-and-coming companies that are making headway in the micromobility industry. 
Following closely behind Bird, Lime is the second most profitable bike and scooter rental company in the United States. At one time, this leading startup had 120,000 electric scooters and bikes deployed across the country.
Since their introduction in 2017, Lime has amassed more than 26 million rides across their line of products. JUMP Bikes, recently purchased by Uber, is steadily following in Lime's footsteps having eclipsed 5 million rides with their 15,000 bikes across 6 countries.
Smaller micromobility startups are also finding success in this emerging industry. Companies like Spin, Scooterson and Unagi Scooters are growing in prevalence and value.  
During their first week in operation alone, San Francisco-based Spin amassed 5,000 rides by users. The company currently has 15,000 units deployed in Portland, Denver, Los Angeles, Washington, DC, Memphis, Kansas City, and Minneapolis. 
Different than the grab-and-go products provided by Bird, Lime, and Spin, Unagi sells electric scooters directly to the consumer. Unagi aims to provide top-of-the-line electric scooters to commuters who are ready to ditch the costs and inconveniences of transportation.
Similarly, Scooterson is a growing startup that combines electric scooter rentals with a subscription service. Users can rent electric scooters from the company for long-term use on a subscription-based plan. While this company is still in the seed rounds of funding, they have already secured $1.8 million in funding for their revolutionary scooters that are equipped with ultrasonic sensors and a warning sound to alert the rider of obstacles. 
It's easy to see that the demand for micromobility transportation is growing and companies like these are getting to work. 
By 2030, the United Nations Department of Economic and Social Affairs expects 60% of the world's population to be living in cities — a 55% jump from the current number of people living in cities as of 2018. With this projected boom in movement from suburbs to cities, the infrastructure can't keep up. 
The micromobility industry is taking off and it doesn't look like it's slowing down any time soon. As companies race to meet the demand, we believe this will be one of the most lucrative industries in the 2020s.
3. With Micromobility Comes Revolutionary Advancements In Technology
You've heard the line "with great power comes great responsibility".
Micromobility vehicles are incredible feats of engineering and technology. Riders are relying on these companies to provide safe, reliable, and durable units. To be successful, it is essential for micromobility companies to take on this responsibility. To do so, brand new technologies are being created that are revolutionizing the way we operate and power electric vehicles.
For rechargeable scooters and bikes, a secondary market is emerging–charging and docking stations. Swiftmile is leading the market in autonomous solar-powered charging stations and has raised $4 million from 7 funding rounds.
In markets where city residents heavily rely on e-bikes and e-scooters, Swiftmile charges a small fee for users to fuel up and get back on the road. Considered the "gas station for electric bikes" by CEO Colin Roche, Swiftmile's mission is catching on and the company recently received a term sheet for a $12 million Series A round.
Startups like Scoot and Superpedestrian are investing in technologies that will ensure that their units will last through inclimate weather and rough terrain. David Michael, Superpedestrian's director of mechanical engineering, created software through which their company can update their scooters' firmware remotely.
Theirs was the first program of its kind to allow wireless updates for micromobility units. Their software also provides predictive diagnostics to warn Superpedestrian that something may need to be fixed. 
If you're asking yourself if there's real money to be made in these secondary markets, you betcha! Superpedestrian has accumulated $63.7 million from 5 rounds of funding since 2012 and its estimated annual revenue is $2 million.
It's not just market leaders who are making headway with innovative micromobility technologies. Scoot was the first micromobility startup to implement an integrated lock that protects them from theft and the misuse of scooters.
This startup company makes an estimated $5 million in revenue per year and was recently acquired by Bird in June of 2019 for $25 million in cash and stock. At the date of the acquisition, Scoot was valued at $71 million.
As time goes on, this corner of the market will continue to expand beyond micromobility units themselves. Batteries must become more powerful and effective, e-bikes and e-scooters must be more durable and user-friendly, and software must be created to keep up with the evolving changes. 
The infrastructure that is needed to support this exploding industry is just as important as the micromobility units.  The world of micromobility and the innovations that surround it pose incredible opportunities for angel investors.
Key Takeaway
As you can see, the market is full of startups with revolutionary ideas who are just waiting for someone like you to invest in the next great micromobility company.
But the opportunity doesn't stop there… It's not just the micromobility space that presents massive upside potential for angels like myself.
And it's not just me that has access to these exciting deals. You can too. 
Ready to cash in on the next generation of startups? Start investing in hand-picked deals today with Angel Investing Insider!