When Jeremy's pitch to The Boardroom angels came and went… 
I never would have imagined it being the next private deal for our members. 
You see, he had so much going for him.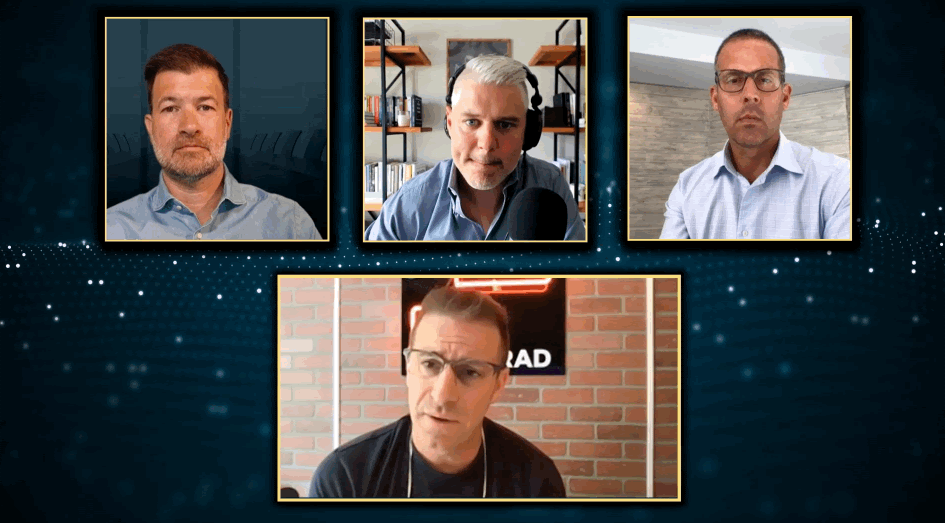 A first of its kind, fully automated marketing platform… 
It saw 400% revenue growth from Q1 to Q2 of this year alone… 
With big-name clients like Nikola Motors, CitizenNet, Noovie, and Ranker (to name a few).
But just because you like a business and believe in its future…
…doesn't mean the numbers will line up and make sense. 
Valuation matters. 
Especially now…during the economic shake-up we're living in.
And that's ultimately what it came down to –– VALUE.
Jeremy is the poster boy for a driven founder.
He wouldn't take no for an answer and ultimately came back to Jeff Bishop for advice on what he could do to gain his investment and The Boardroom's endorsement.
The result?
Jeremy's company Rad Intelligence landed a spot as The Boardroom's next private deal… 
Members of The Boardroom have the chance to invest alongside us and the insane deal terms we negotiated… 
And we created a special way for YOU to be part-owner in Rad Intelligence through this Boardroom Spotlight.
But there's more to this story.
A while back, the founders of The Boardroom and I spoke with Jeremy Barnett, founder of the innovative digital marketing company Rad Intelligence.
The guys sat down live to hear the pitch deck, grill the founder, and ultimately decide if the deal was right for them or not.
As you know, The Boardroom offers exclusive angel investing opportunities to members. We only pass along deals that we have already vetted, interviewed, and invested in ourselves. 
This is the write-up of the entire pitch deck and assessment. 
To see more information on Rad's unique, influencer-based marketing solutions, and get a chance to co-invest with The Boardroom founders, check out this one-time-only deal.
The Pitch
Jeremy Barnett, the founder of Rad Intelligence, sat down with us to pitch this deal. 
Here is the summary — the opportunity, numbers, valuation, and how Rad is different than other influencer marketing platforms.
The Problem
Rad Intelligence is solving the problem of wasted money in digital marketing campaigns. Each year, across social media and influencer marketing, companies waste over $75 billion. 
Who is Rad For?
Rad is made for small- to medium-sized businesses. This is an automated marketing solution for businesses that can't afford a PR agency, a marketing partner, and certainly can't afford to waste a bunch of money on ineffective marketing. 
With Rad, results come first. The main goal here is to show the effectiveness of influencer marketing through direct, actionable analytics. 
Now, companies don't need to hope their campaign is working, they will know if it's working or not. 
According to Jeremy, Rad's perfect client is someone on Shopify or WordPress that has a couple hundred thousand dollars in revenue each year. 
These types of businesses have never had the big bucks required to make influencer marketing work, but now, with Rad Intelligence's advanced analytics, they can.
How Does Rad Work?
The way this works is very similar to Google Adwords. Jeremy says Rad is like "Adwords for content distribution."
Clients provide content in the form of articles, videos, and blogs. Then, they set a budget for that content and decide on the cost per click (CPC). Once this is done, the content is ready to be shared by influencers.
Influencers
Once the client's content is ready, influencers can share it based on the type of content and the CPC. Influencers have a feed of content to choose from. They share the content on their social media. Influencers get paid and clients' content is shared and tracked.
Startup Growth
Rad is growing rapidly and carving out space for this new service. In terms of growth and traction, Rad has:
20%

month over month growth

$150k

MMR by Q4, 2020

35%

gross margins

50%

revenue share with users

100%

SMB renewal rate

300%

client growth

$40k

burn rate

24+

clients
The Perfect Rad Client
Meet Jason.
Jason owns a Shopify business. He wants to run a successful digital marketing campaign for his business but can't afford to pay a traditional agency that charges $25,000 upfront. 
Agencies also don't want Jason's kind of business — they just won't make much money off of him.
Instead, Jason can work with Rad and pay $500 a month for a marketing campaign. Rad can guarantee the number of clicks Jason will get based on his own budget and CPC. 
Jason controls the pacing. Jason doesn't need to do much, he just sits back and lets Rad do its thing — fully automated.
Rad's Total Addressable Market
Rad can work with any content from a brand that has a digital presence. If it's on the internet, Rad can help.
Videos, articles, blogs, and product pages can all gain traffic through Rad's influencers.
Rad works with publishers, content-rich brands, and small and medium-sized businesses.
In particular, Rad wants to dominate the underserved small and medium-sized business market. 
There is currently a white space in the market for practical, trackable Adtech tools to improve digital marketing for businesses of this size.
Making the World Better
Rad has democratized the way people earn money on social media. This has knocked down barriers and allowed nearly anyone to make a living for their self through digital content. 
To take this a step further, Rad has created a charity that helps vulnerable teenagers learn how to make money online as influencers. 
By partnering with the Orphaned Starfish Foundation, Rad has been able to impact the lives of thousands of orphaned children. This program educates teens and gives them a path towards financial stability that would be otherwise impossible.
This program spans 29 countries and 68 computer centers, serving 15,000 children.
How Will Rad Use its Early-Stage Funding?
Create and refine media buying tools and automation for small to medium-sized businesses.
Build integrations for the Shopify Marketplace.
Make API integrations across Pinterest and Instagram.
Invest in content regeneration into user voices by using machine learning and NLP.
The Boardroom Assessment
After delivering the pitch, Jeff Bishop, Chris Graebe, and Jason Bond went head-to-head with Jeremy to address the issues they saw. 
Influencer Network 
Jeff Bishop pressed on Rad's influencer community — the size, functionality, and practicality of it.
Rad has just over 4,000 influencers. While other influencer networks claim to have millions of influencers, Rad keeps it simple and honest. Turns out, SMBs don't need many, they just need a tight-knit network that prioritizes results.
Unlike other networks, all of Rad's influencers are Facebook API approved. As soon as an influencer joins, Rad gets all of the paid permissions. 
This means Rad has all of the targeting capabilities of Facebook ads but through the persona of the influencers.
Jeremy says that it's really all about the balance between users (influencers) and advertisers.
Difference Between Rad and Traditional Influencer Marketing
Normally, marketing through influencers is time-consuming and untrackable.
The advertiser or influencer network needs to contact an influencer, negotiate with them or their manager, set up terms, and send the product or information before the influencer finally does their thing. 
Once they have made the post, article, or video, there is no way to see how well the marketing campaign actually was. There are vanity metrics like shares, likes, and comments, but no performance metrics.
With Rad, influencers are already partnered with and ready to go. Anything they do on Facebook is tracked through Facebook's analytics. 
Ecommerce companies can find out which specific influencers are converting customers when Rad's adds its Javascript buttons to the site.
This is real, trackable, actionable data — all automated, in the background. 
No one else is doing this.
Valuation
Some issues came up around the startup's valuation. Jeremy valued the company a bit higher than we thought it should have been. Rad's WeFunder page uses this number to sell shares. 
The angels called this into question. Because, well, we want to negotiate the best possible deals for our members investing alongside us.
Jeremy said that it was a fair valuation citing comparable companies on the market, the Rad team, intellectual property, the product, and more.
Funding
Jeff asked about the funding of the company.
When the pitch took place, Rad had already raised $1.1 million. 
This came from a lead investor who invested around $750,000, a seed investor who is also Rad's CFO invested $272,000, and a VC who invested $100,000.
Jeremy said the company actually isn't cash-poor, having $300,000 on-hand from the funding and revenue stream. 
The Boardroom Talks it Over
At the end of the pitch, Jeff, Chris, and Jason discussed if they wanted to invest or not.
While they found the business interesting, they thought that it had taken a bit too long for things to pick up the pace. 
With the low monthly revenue and burn rate, they explained that Rad still has a long way to go to have serious return potential.
Because seed money has dried up over the past few months, the angels decided that they have a lot of negotiating power to get favorable terms with Rad or with another similar company. Because of this, they decided that the original valuation was a bit too high for them.
They decided not to invest in the current valuation. It was more of a "maybe".
So, Jeff had the radical idea of first testing the platform with his own company, RagingBull. 
To see if the product was worth it, he would become a client of Rad and see what kind of results Rad's marketing campaigns could yield.
Fast Forward, Making a Deal
After the pitch, Jeff Bishop ran the advertising test with Rad. He spent real money to have RagingBull services advertised by Rad's influencers. 
The results were great. After seeing what the company could do, and convincing the founder, Jeremy, to reassess the valuation, The Boardroom decided to strike a deal and invest.
Rad is now a Boardroom member deal. 
Their exclusive investing information is only available to Boardroom members, but you can become part-owner with one-deal access through this Boardroom Spotlight.
This just goes to show the level of discipline and tenacity it takes for entrepreneurs to secure a deal and for angel investors to find one. 
The Boardroom was ruthless in the pitch, but Jeremey didn't back down. 
In the end, both parties came to an amazing agreement that put Rad on track for rapid growth and success.