Your future doctor visit could include genetic editing to reverse the downside of inheritance – arthritis, diabetes, sickle cell anemia, cystic fibrosis, cancer… you get the idea. 
Life-saving gene editing may possess the opportunity to turn back time on injuries and inherited diseases and immunity to infectious diseases like Covid 19. 
In 1987 researchers discovered patterns and spaces in the DNA strand; those spaces are referred to as "Clustered Regular Interspaced Short Palindromic Repeats" or CRISPR for short. This CRISPR discovery showed that viruses insert their genetic code instructions and change the nature of cellular replication leading to disease and death.  
Genetic modification is nothing new— ever since the first branch was grafted into a different vine to get a better type of fruit, or breeding animals for specific features.  But even with this new technology, there is still a lot to learn.
Now there's surgical precision like molecular scissors in gene therapy, with the potential to personalize health care that is getting the attention of excited investors who want it.
While everyone is buzzing from last week's study—in which six rare disease patients improved their condition after receiving a CRISPR injection.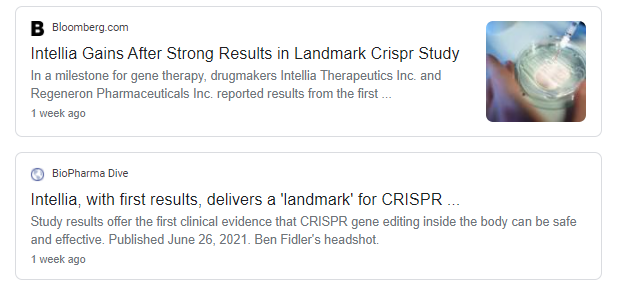 [image source: Google News]
Several startups are working diligently in the space—that you've probably never heard of. 
Today I'm going to talk to you about six of the most compelling companies in the space. Including two startups which have yet to IPO. 
Synthego
Synthego is a privately held company which developed genetic engineering technology called SNP-Chip – molecular-sized transistors to detect single point mutations which can then be repaired. They are also working in the sickle cell space, with several other companies. Just one year ago, Synthego raised $100 Million in their series D financing to accelerate the research to market process . 
CEO Paul Dabrowski comes from a background in computer engineering, and has worked on illustrious high tech projects such as SpaceX lead digital designer,  and Halcyon Molecular.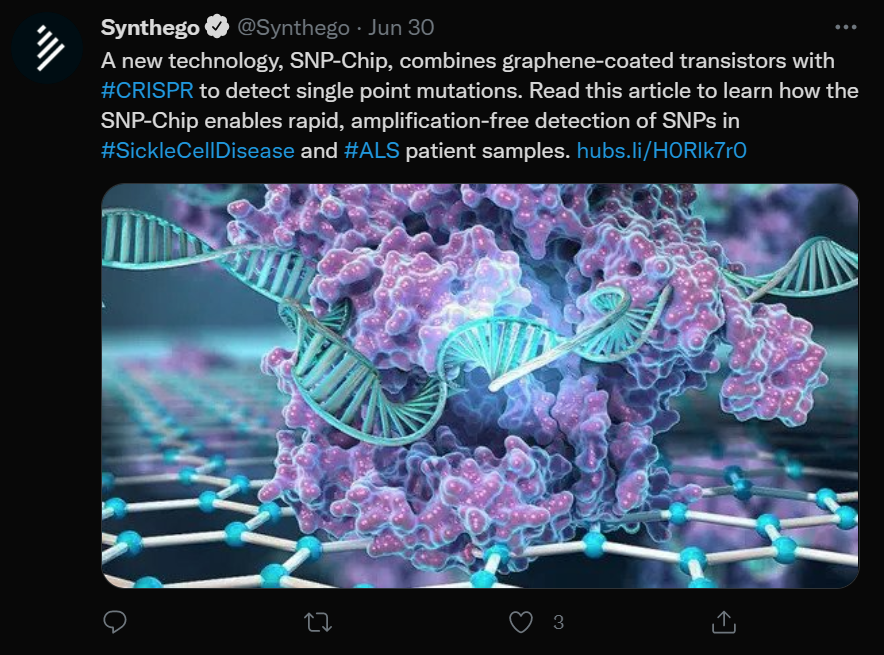 While some companies have already entered into their public offering and are now traded on the Nasdaq, this makes the analysis of the sector easy to spot trends and entry points. Evaluating angel investment opportunities in this rapidly advancing sector can be matched with personal passion for finding a cure or reversing the effects of aging.  
Exonics Therapeutics
There are several different strains of muscular dystrophy – a disease that affects about 250,000 in just the US. One of the more common strains is referred to as Duchenne Muscular Dystrophy (DMD) which impacts male children as early as 2 years old, and typically leads them to being wheelchair bound before they're 12. 
Exonics CEO Eric Olson describes the use of a prime editor process to correct large deletions in the DMD gene by specifically swapping a single nucleotide.  
Olson, a professor at University of Texas Southwestern Medical Center specializes in molecular biology and led the research. "Thousands of different mutations causing DMD have been identified, but they tend to cluster into certain parts of the dystrophin gene," Olson said. "The power of our method is that you don't need a new gene editing strategy for every patient with a new mutation; you can correct multiple different mutations with a consolidated approach."
Mammoth Biosciences
Mammoth came out heavily on the diagnostic side in the use of gene editing technology, working hard in 2020 to create a rapid diagnostic test for the coronavirus. Their focus on disease diagnostics in the CRISPR space positioned them to step up in a time of crisis.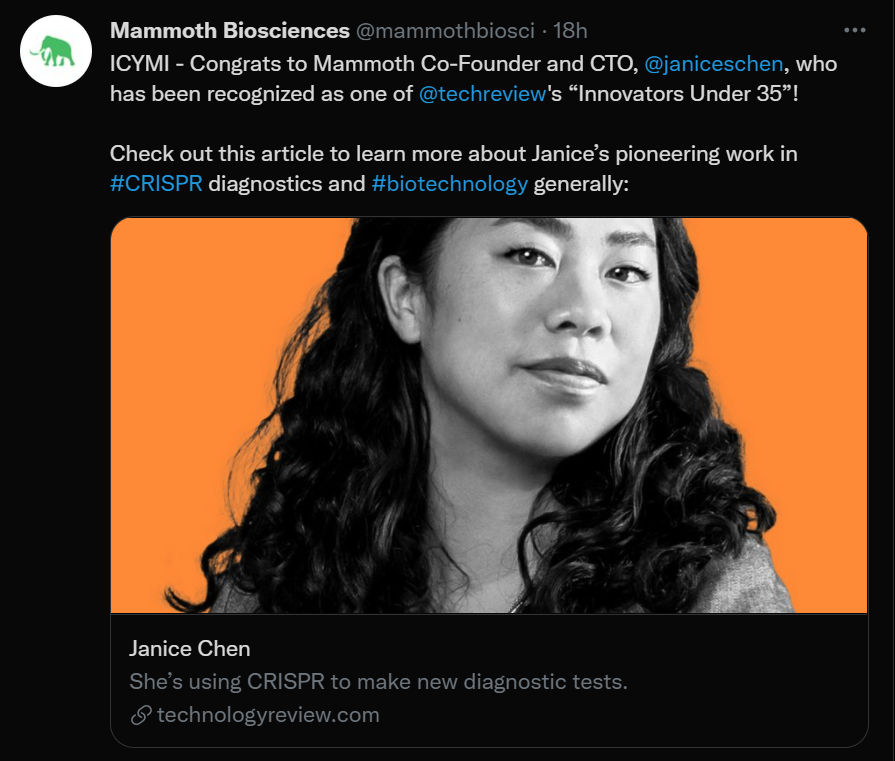 Nobel Prize winner, Jennifer Doudna (see Intellia Therapeutics) co-founded Mammoth with Trevor Martin as he was completing his graduate work, researching genetics and statistics in Fraser Lab at Stanford University.  
Some of its key investors include Mayfield, 8VC, Tim Cook, Brook Byers, Wireframe Ventures, Pacific8 and Verily, according to the company's website. 
Public Companies In The Space
Beam Therapeutics
Beam Therapeutics' approach is around base editing technology, which is a fancy way to say precise point gene repairs without directly breaking the DNA strand, which leaves cells less vulnerable. 
It's exciting for the medical community as DNA breakage has been a significant barrier to gene-editing therapies. This week, BEAM along with Apellis Pharmaceuticals, announced a 5-year research collaboration using Beam's base editing technology to find new treatments for complex diseases. 
The partnership brings Apellis Founder Cedric Francois MD, known for his part in the research team that performed the first successful hand transplantation in Louisville, KY  in 1999, together with Beam CEO Alex Frommeyer.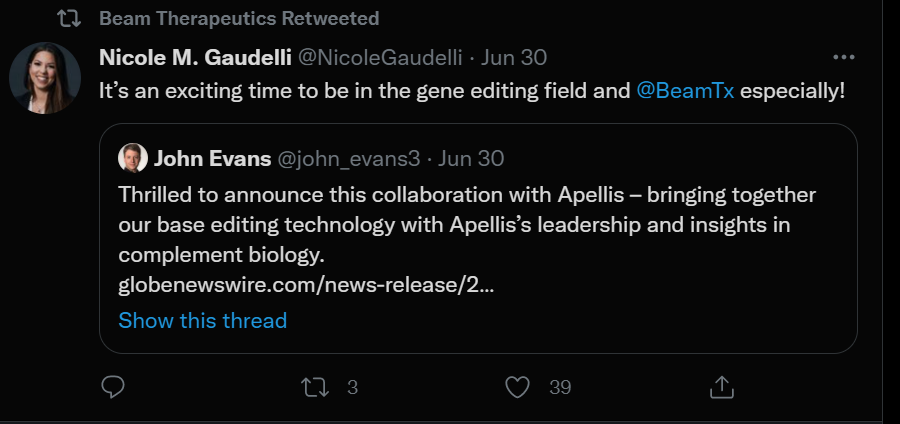 Shares of BEAM have seen a nice runup in 2021, rising nearly 60% ytd. 
Intellia Therapeutics
The 2020 Nobel Prize in chemistry recognized the need and the power of CRISPR technology when it recognized Intellia Therapeutics founder Jennifer Doudna. Just a few weeks ago, Intellia announced findings from the first-ever human study focused on treatment options for patients with transthyretin amyloidosis, a genetic disease that is often underdiagnosed and is associated with heart failure. 
Investors are now starting to see the rewards. Shares of NTLA are up 200% ytd. 
CRISPR Therapeutics 
I don't want to leave out CRISPR Therapeutics which has been cited frequently in the news, especially around sickle cell gene editing research. AND co-founder, Emmanuelle Charpentier shared the Nobel Prize in Chemistry with Intellia Therapeutics founder, Jennifer Doudna. Along with the research into sickle cell disease, CRISPR Therapeutics has also been pursuing therapies for natural killer cell cancer treatments. 
There has been some downside buzz about CRISPR Therapeutics in discussions about their cash burn rate, though the company seems to be on top of its spending needs. 
Shares of CRSP have risen by more than 40% over the last month. However, it is still off its 52-week highs of $220 per share, and up a modest 1.8% on the year. 
Editas Medicine Inc. 
Editas has research in ocular disease, cancer and blood diseases like sickle cell, which is where the buzz has centered in CRISPR technology this week, riding on the coat tails of Intellia Therapeutics. Editats is involved in the same research on ATTR (transthyretin amyloidosis) and has received approval for a clinical study to begin testing in children. They expect to report findings from an adult study in September. 
Despite a 64% increase in its share price over the last month, shares of EDIT are down 21% ytd. 
Bottom Line 
CRISPR investors are at the forefront of an untapped wilderness that will influence how we treat disease and move toward a health care focus rather than a focus on disease care. 
With over $4 trillion in the US national budget, not counting what the average person spends on care and insurance, due diligence for investors shows this field has massive industry growth potential but carries risk like any start-up investment.